Haiti earthquake: US stops deporting Haitians
(Read article summary)
After the Haiti earthquake, the US announced it would halt all deportations to Haiti.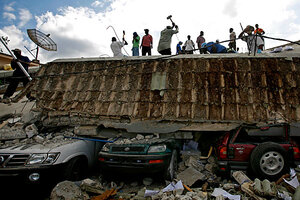 Ricardo Arduengo / AP
In an expected but significant move, Immigrations and Customs Enforcment (ICE) announced today that they would halt all deportations to Haiti in "response to the devastation caused by yesterday's earthquake."
The impoverished island nation was hit by a magnitude 7.0 earthquake 10 miles off its shore Tuesday evening. The death toll is not known, though some Haitian officials say it could be in the hundreds of thousands.
More than 32,000 Haitians reside illegally in the US, according to a May 2009 story in the Boston Globe. Haiti is the poorest country in the Western Hemisphere – 80 percent of the 9 million on the island live below the poverty line, according to the CIA World Factbook – and remittances are a primary source of foreign exchange and nearly a quarter of Gross Domestic Product (GDP). After four hurricanes and major storms in 2008, Haiti's government asked the US to give its illegal immigrants Temporary Protected Status (TPS), which would shield them from deportation and allow them to work legally.
Though images of Haitian 'boat people' are fresh in the American memory, Haitians do not have a 'wet-foot dry-foot' policy similar to Cubans, which eases their immigration to the US. (Under US law, Cuban nationals who reach the US by boat and make it to land have the right to stay whether or not they have a visa.)
Speaking with reporters in Miami, Haitian-born Florida state rep. Yolly Roberson said of Haitian immigrants long-standing desire to be granted TPS: "If there is ever a time for the federal government to consider granting Temporary Protected Status to Haitians, this is now. This is not the time to send Haitians back to Haiti.''
---
Follow Stories Like This
Get the Monitor stories you care about delivered to your inbox.