Why do lakes in China turn green? Report finds surprising new culprit.
(Read article summary)
In China, known as the world's factory, a significant portion of water pollution actually comes from farms, a government report revealed Tuesday.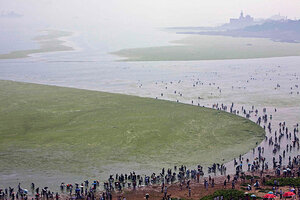 Nir Elias/Reuters/File
When you think of pollution in China, you tend to think first of smokestacks and smog-bound factory landscapes and lead-poisoned children and fields coated in coal dust.
They all exist, of course. But a Chinese government report published Tuesday points out a little known fact: Nearly half of the pollutants that poison China's waterways come from farms.
Agriculture, in one form or another, is to blame for 43 percent of China's "chemical oxygen demand" or COD – a commonly used measurement for water pollution – according to a new census of pollution sources.
"This is the most significant finding of the report," says Ma Tianjie, a spokesman at the Beijing office of Greenpeace. "These are largely unseen threats, invisible to the public."
Every now and again they become visible – when a lake turns vivid green or bright blue for example, because the nitrogen runoff from fields has fed algae that bloom extravagantly.
Those algae also suck all the oxygen out of the water, and the fish suffocate. It happens quite a lot in China.
---
Follow Stories Like This
Get the Monitor stories you care about delivered to your inbox.