St. Patrick's Day: Did Patrick become Christian for the tax breaks?
(Read article summary)
Despite persistent myths, St. Patrick's Day recalls a man who didn't alone convert the Irish, didn't use a shamrock to teach the Trinity, and didn't chase out the snakes. It recalls a man who, simply, loved the Irish.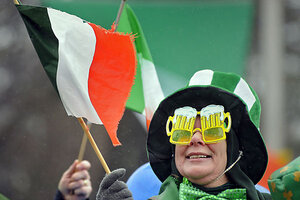 Paul Kapteyn/Worcester Telegram & Gazette/AP
We credit St. Patrick for bringing Christianity to Ireland and banishing the island's snakes.
But post-glacial Ireland never had snakes and the saint recognized on March 17 is actually a combination of two men, Patrick and Palladius, with the latter being the first to bring Christianity to the Celts.
While recognized a saint, Patrick was never canonized by the Roman Catholic Church, as he died before the official sainthood process began. And in an odd path to the church, his father possibly became a church deacon for the tax breaks – though the jury is out on Patrick's motivations.
IN PHOTOS: St. Patrick's Day parades around the world
Visions and revisions
Patrick is remembered because he alone left behind documentation of his time in Ireland. His two Latin letters survive: the Confession of Saint Patrick and the Letter to the Soldiers of Coroticus.
"He left documents behind so he could be talked about, whereas the other missionaries did not," says Carmel McCaffrey, author of "In Search of Ancient Ireland: The Origins of the Irish from Neolithic Times to the Coming of the English."
Together, those letters give us a look at a man who cared deeply for the Druids, she said by telephone from Maryland.
Patrick joined the church as a young lad. At the age of sixteen, he was taken prisoner by a group of Irish raiders who were attacking his family's British estate. Brought to Ireland, he was forced to work as a shepherd. According to his letters, he turned to religion for solace and was told in a dream to run to the coast where he would find escape.
---