Ash cloud over Europe could last for months
(Read article summary)
The volcanic ash cloud over Europe continued to delay flights across the continent on Friday. The ash cloud is affecting the Afghanistan war. Scientists say that the cloud could continue to last for weeks, or even months. Airports in the United Kingdom will remain closed until at least 1 a.m. on Saturday.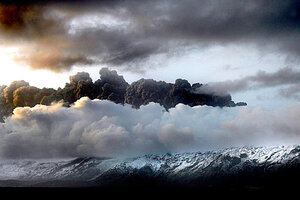 Brynjar Gaudi/AP
For the second straight day, ash from a volcano in Iceland has continued cause major flight delays across Europe. Only 11,000 of the nearly 28,000 flights that normally pass over Europe are expected to take place on Friday, according to Eurocontrol, an intergovernmental organization that manages air traffic in Europe.
Stranded travelers are likely to take little solace in reports from scientists who warn that the eruption creating all the ash may continue for days, weeks, or even months. It remains difficult for scientists in Iceland to ascertain how long the eruption is likely to continue. As of Friday morning, the webcams used to monitor the volcano are still covered in a cloud of ash, reports the BBC. The main problem, however, is not the eruption, but the winds pushing the ash towards Europe.
Minimal effect on US
Although the cloud will eventually reach the US, ABC News reports that it will likely not create problems for domestic flights. However, grounded flights in Europe have affected US flights due to fleet planning issues created by planes stuck in Europe.
"This stuff will go all around the world, but by the time it gets back to the West Coast of the United States, [it'll have] pretty well fallen out to the point where it's not a danger to us," Nance told "Good Morning America" today. "But we've never seen [such a volcanic disruption] on a scale like this where it has hit a tremendous beehive of daily aviation activity."
---