Viktor Bout, weapons dealer, to be extradited to US from Thailand
(Read article summary)
Viktor Bout, the famed weapons dealer, can be extradited to the US, a Thai court ruled today. The so-called 'Merchant of Death' is accused of supplying dictators and warlords with weapons.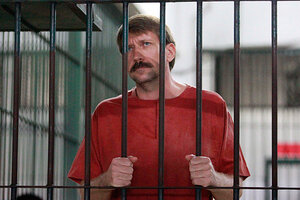 Sukree Sukplang/Reuters
Viktor Bout – aka "The Merchant of Death" or "The Lord of War" – will be extradited to the United States more than 29 months after his arrest in Thailand.
A Thai appeals court ruled Friday that the 43-year-old Russian arms dealer could be extradited.
"Well, now we'll just go to a US court and win there instead," Mr. Bout told Russian news agency RIA Novosti.
The ruling drew immediate criticism from Russia and praise from the United States. Bout has been accused of supplying dictators and warlords with weapons used in civil wars in Africa, the Middle East, and South America. (Read the Monitor's backgrounder: Who is Viktor Bout?)
The US Department of justice lauded the decision.
"We are extremely pleased that the Appeals Court in Thailand has granted the extradition of Viktor Bout to the United States on charges of conspiring to sell weapons to a terrorist organization for use in killing Americans," Acting Deputy Attorney General Gary G. Grindler said in a statement today.
---