Wife of 'ground zero mosque' imam epitomizes Islam's modernizing voice
(Read article summary)
Daisy Khan, wife of Imam Feisal Abdul Rauf, spoke to the Monitor in 2006 about her efforts to bring women's perspectives into Islamic law, particularly on issues such as domestic violence and divorce.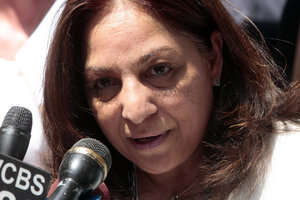 Frank Franklin II/AP
One of the leaders of the proposed Islamic center and mosque near Ground Zero has spent years trying to amplify the voices of educated women within Islam. In this way, Daisy Khan epitomizes the so-called "moderate Muslim" and modernizing force from within Islam that some Americans are impatient to see.
Ms. Khan is married to Imam Feisal Abdul Rauf, head of the organization Cordoba Initiative that is proposing to build the controversial community center known as Park51 about two blocks away from the site of the former World Trade Center.
I met Khan in 2006 at an international conference in New York City that she had organized. The conference brought strong Muslim women from 25 countries to hash out plans for a council of female Islamic jurists, known as muftias or muftiyyahs. These women jurists would be capable of issuing fatwas, or religious rulings.
As I wrote at the time, their idea was "to ensure that women's perspectives on Islamic law become part of religious deliberation in the Muslim world – particularly on issues such as domestic violence, divorce, and inheritance."
Some of the delegates at the conference had already succeeded in fighting for women's rights within the religion. One, Zainah Anwar, used her Koranic scholarship to rebuff efforts to exclude Muslims from a domestic-abuse law in Malaysia.
Khan explained to me the muftia effort, saying: "Islam is a religion of law, and it is important to express the principles of social justice within the framework of Islamic law." She added: "This is why we need muftias, in order to do that. Otherwise, it falls on deaf ears."
---