Commonwealth Games: India scrambling to quell outrage
(Read article summary)
An international outcry about India's preparedness for the Commonwealth Games has the country frantically trying to get ready before teams begin withdrawing.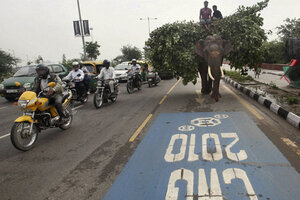 AP Photo
Indian Prime Minister Manmohan Singh wasn't in New York yesterday to accept an the year's World Statesman Award from the interfaith group Appeal of Conscience Foundation. He has some statesmanlike work to do at home.
With just 10 days to go until the start of the 2010 Commonwealth Games, held in New Delhi, the Indian leader is – some say belatedly – battling international outrage over conditions at the athletes' village, building standards, and ongoing concerns about weather and health issues.

He has convened emergency meetings with organizers and with the Indian sports and urban development ministers, who were given a 48-hour deadline yesterday to clean up the mess.
India is already under immense pressure to salvage the Games – and things will undoubtedly escalate as the deadline approaches, now one day away.

To add to the pressure, the majority of Indian people are outraged over the situation. A survey by the popular Times of India newspaper found a staggering 97 percent of respondents say the furor has tarnished India's reputation. Media commentators say if the games are a failure, it would damage India's national pride and spirit, not to mention outside perception of the country as a rising power.
---