An Afghan governor dies and Hamid Karzai cries. Is that a problem?
(Read article summary)
Bob Woodward's recent book amplified US whispers that Afghan President Hamid Karzai is unstable. There is a problem, but it isn't his brief show of emotion today.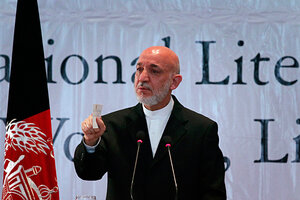 Musadeq Sadeq/AP
Afghan President Hamid Karzai teared up as he delivered a nationally televised speech in Kabul today shortly after the deputy governor of Ghazni province and five others were killed in a suicide bombing.
President Karzai, the man President Barack Obama is counting on to turn Afghanistan around, has long been a source of frustration for US officials, particularly since he retained power in a fraud-marred election last year.
While today's show of emotion reinforced US concerns about Karzai's reliability, the more important signals to be watching are what motivates him – and how external pressures are influencing him.
US whispers about Karzai's instability
US diplomats have long privately whispered that there was something "wrong" with Karzai mentally. Those allegations erupted into the open last week with the publication of Bob Woodward's book "Obama's Wars," which is largely a chronicle of the US government debate last year about the wisdom of committing more troops and money to the Afghanistan war.
Woodward writes that US intelligence determined that the Afghan president is "manic depressive" and occasionally smokes marijuana. He also writes that US Ambassador Karl Eikenberry once explained the mercurial Karzai's behavior by saying he was occasionally "off his meds," though the book doesn't provide the source for that claim.
---