Mahmoud Abbas gives Israel a week to halt settlement expansion. Does he mean it this time?
(Read article summary)
Palestinian leader Mahmoud Abbas backed down again on his threat to quit peace talks over Israeli settlement expansion, this time pending consultation with the Arab League Oct. 4.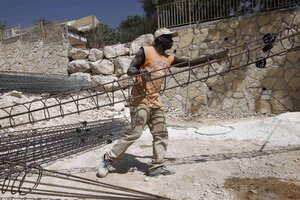 Ronen Zvulun/Reuters
About now, Palestinian Authority President Mahmoud Abbas is looking like the boy who cried wolf.
Last year, Mr. Abbas said there would be no negotiations with Israel unless all Israeli settlement construction was stopped. In March, he said even so-called "indirect" talks with Israel could not go forward unless an Israeli plan to build more housing for Israeli Jews in East Jerusalem was scrapped.
Early this month, Abbas warned that if a partial settlement freeze in the West Bank was allowed to lapse then just-started negotiations would be called off. And on Sunday, he told members of France's Jewish community in Paris that continuing talks without an immediate halt to settlement expansion would be a "waste of time."
In each case, Abbas and the Palestinians blinked first, returning to the talks they insisted they would avoid. That was largely due to heavy pressure from the US, a key financial backer of the Ramallah-based Palestinian Authority.
Today, Abbas and Palestinian negotiators insisted that Israel has roughly a week to call off settlement expansion – which rumbled back to life in the West Bank over the weekend – or they'll walk away from talks.
---