Iraqi rowing team makes a splash in the US
(Read article summary)
Entire team – six rowers, two coaches – was invited to US to train and compete in the world's biggest crew event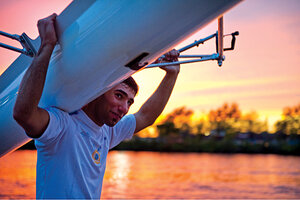 Ann Hermes/Staff
Iraqi rowers on the Tigris are surprising. But Iraqi rowers on the Charles River?

"It's very exciting for us," says Haidar Nawzad, a rower and the team's de facto spokesman, as he speaks the best English. Eight members of the Iraqi National Rowing Team (all six rowers, plus two coaches) arrived in Boston in late September for a six-week stay in the United States.

The team spent a week with the US National Team in Prin­ceton, N.J., then several more training on the Charles under the eye of Bruce Smith, a coach of the US team and executive director of Community Rowing, Inc., in nearby Brighton. "When they're out on the water, doing the same things the American rowers are doing," says Coach Smith, "it builds the kind of understanding of each other that I don't think is very easy to establish in any other arena."
---
Follow Stories Like This
Get the Monitor stories you care about delivered to your inbox.