Senegal revives African culture festival, 33 years later
(Read article summary)
Senegal is hosting the World Festival of Black Arts and Culture for the first time since 1966, when it showed potential for significant growth. Today, the president says, 'it's time to believe again.'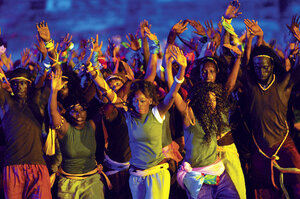 Aliou Mbaye/Panapress/Newscom
• A local, slice-of-life story from a Monitor correspondent.
Senegal's capital city, Dakar, has repainted mosques, reopened stadiums, lined thoroughfares with African flags, and erected acres of glimmering resident lofts for the 2,000 African artists coming to the first World Festival of Black Arts and Culture in 33 years.
For the West African government, the festival is a showpiece to assert Senegal's rank as a leading destination for African art and intelligentsia. For its thousands of attendees, flying in from at least 70 countries, it's a 21st-century edition of an old traveling gala, founded during the heyday of Pan-African thought: a venue where African art can be not just exhibited, but exalted.
The last time Dakar hosted the festival, in 1966 (the second festival was held in 1977 in Lagos, Nigeria), it seemed possible to imagine the world's poorest continent transforming itself into a single steel-girded, hydroelectrified superpower: the United States of Africa. Four difficult, coup-marred decades later, that vision remains a fetching idea that inspires more college papers than actual policy.
But at the lavish opening ceremony of the 21-day festival on Dec. 10, Senegalese President Abdoulaye Wade told his audience that it's time to believe again. "We must keep working," the octogenarian crowed to a stadium crowd.
---