Egypt's protests, told by #Jan25
(Read article summary)
Cairo's streets erupted in protest today and Twitter and other social media sites made it clear that today was a big day for Egypt's opposition.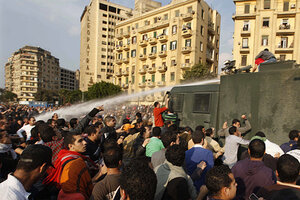 Nasser Nasser/AP
It was reminiscent of Iran's Green movement protests in 2009. Protesters flooded Cairo's main squares and Twitter, Facebook, Youtube, and Flickr flooded the Internet with updates. Supporters of Egypt's protesters around the world spread information in updates so rapid and numerous that the collective coverage could probably be classified as viral.
Some protesters are still out in the streets and on the Web demanding greater freedom and the end of President Hosni Mubarak's rule. The scope of the protests is "unprecedented," says former Monitor Cairo correspondent Dan Murphy. The success of Tunisia's protests made the difference, indicating to Egyptians that maybe their protests could have some results this time around.
---