After Ratko's arrests, a look back at the Srebenica massacre
(Read article summary)
Ratko Mladic was already indicted for war crimes when the Monitor helped uncover the Srebrenica massacre -- the worst war crime in Europe since World War II.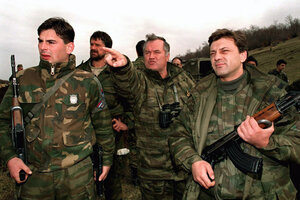 Emil Vas/AP
Ratko Miladic, one of Europe's most wanted war criminals who'd been on the run for 16 years, was finally arrested today in Serbia.
General Mladic was the military commander of the Bosnian Serb Army from 1992 to 1996, and has been accused in the slaughter of thousands of unarmed men and women from the Bosnian side of the Yugoslavian conflict.
Most notorious are allegations of his involvement in the Srebrenica massacre, in which about 8,000 Bosnian men and boys were gunned down and buried in shallow graves in 1995.
This paper played a role in uncovering that massacre, and the coverage earned then Monitor correspondent David Rohde the Pulitzer Prize. The paper's reporting that year placed Mladic at a stadium in Bratunac shortly before 1,600 Bosnian prisoners were gunned down there, and at four other locations, also shortly before prisoners were executed.
---