In Syria, attacks on embassies don't happen without permission: former US official
(Read article summary)
Former State Department intelligence official Wayne White says that in police states like Syria, attacks such as those on the US and French embassies this week only happen when the government lets them happen.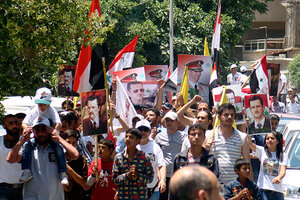 Reuters
The United Nations Security Council passed a resolution Tuesday condemning the attacks this week on the US and French embassies in Damascus in "the strongest terms" and reminded Syria of its obligation to protect foreign embassies within its borders.
The UN resolution came hours after US Secretary of State Hillary Clinton put much of the blame for Monday's attack – in which protesters breached the embassy walls, scaled the roof, and broke windows – on the Syrian government, accusing it of providing inadequate protection for the embassy and implying that it may have permitted the attack to happen, or even encouraged it.
"By either allowing or inciting this kind of behavior by these mobs against American and French diplomats and their property, they are clearly trying to deflect attention from their crackdown internally and to move the world's view away from what they are doing," Secretary Clinton said Tuesday morning.
The Syrian government condemned Ms. Clinton's comments and denied any role in the embassy attacks.
But in a tightly controlled state such as Syria, protests and violence like Monday's in Damascus do not happen without, at the very least, the government's compliance, says Wayne White, a retired senior State Department intelligence official and now a scholar the Middle East Institute in Washington.
---