What are the pressures that drive Britain's tabloid culture?
(Read article summary)
Monitor reporter Ian Evans sheds light on how the tremendous pressures within the UK tabloid business have fostered the unethical reporting tactics that ensnared News of the World and News Corp.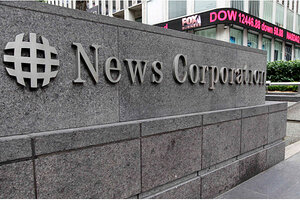 Brendan McDermid/Reuters
Scandal, controversy, deceit, and shame: Those words are the daily mainstay of Britain's tabloid press.
Now, however, the UK's so-called "red top" newspapers are desperately looking over their shoulders as the phone-hacking scandal that brought down the country's top-selling newspaper, The News of the World (NotW), threatens to engulf the whole genre with guilt by association.
While the UK's other tabloids are maintaining a holier-than-thou veneer, privately most reporters know someone on Fleet Street who has used underhanded practices to obtain information that helps put them and their paper ahead of the game.
That can involve using a rogue telecom employee to obtain phone numbers or buying a police contact or someone close to the story a dinner. The relatively minor costs were absorbed under some obscure expense entry.
Did senior staff know? Maybe, but in my experience, under the maxim "ask me no questions and I'll tell you no lies," it was unofficially seen as an acceptable tool of the trade to pursue a story of public interest.
That still doesn't explain to a public aghast at the unfolding scandal involving the hacking of the voicemail of a murdered schoolgirl, dead soldiers from Iraq and Afghanistan, and even, it's claimed, victims of 9/11, why the industrial-sized hacking operation at NotW took place.
To understand that, you arguably will have had to work for Britain's national newspapers as I have.
---