Good Reads: A roundup of Lockerbie, Boko Haram, and Monterrey
(Read article summary)
Today's stories feature deeper looks at the fate of Lockerbie bombing mastermind al-Megrahi, the evolution of Nigerian terrorist group Boko Haram, and what the Monterrey casino attack might mean for Mexico.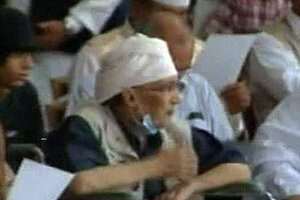 Libya State TV/AP
The weekend is done, Manchester United destroyed Arsenal, and a storm named Irene thankfully disappeared faster than expected.
Let's turn to the papers, shall we, and find some good reads that help us make sense of some of the other stories from the past few days.
● First up, if you haven't already seen the video, is a well reported piece by Nic Robertson of CNN. For the past decade, Mr. Robertson has been one of the hardest working correspondents on TV, and having covered the investigation of the bombing of the Pan Am flight 103 over Lockerbie, Scotland, on Dec. 21, 1988, he returns to the story years later in Tripoli, Libya, to Abdel Basset al-Megrahi, the man convicted of organizing the bombing of the airliner by a Scottish court, and later released on compassionate medical grounds due to failing health.
---