Good Reads: Al Qaeda's No. 2, Africa hearts Qaddafi, and an American (jailed) in Pakistan
(Read article summary)
Today's top stories feature deeper looks at Al Qaeda's No. 2 man, why Africa still loves Qaddafi, and what Alabama has to do with Pakistan.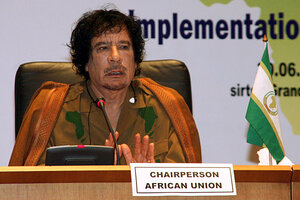 Ismail Zetouny/Reuters/File
Here's what Monitor editors liked from the news feed of the past 24 hours – good, meaty, well-reported stories with strong analysis on issues that matter: Why does the killing of Al Qaeda's No. 2 man signal a turning point for the terror group? Why does Africa still "heart" Qaddafi? (Hint: money). And what's a nice guy from Alabama doing in a Pakistani prison?
Even after a decade, the war on terror continues to draw attention, and Brian Fishman in Foreign Policy argues that the reported killing of Al Qaeda's No. 2 man, Atiyah abd al-Rahman al-Libi, may be a turning point in bringing down the terror network. Why? Because Atiyah was the communications guy, the one who could slip across borders and share information with operatives as far as North Africa. All the media's attention may focus on Osama bin Laden's right-hand man, Ayman Al-Zawahiri, but at a time when information is crucial for survival, Atiyah was the man with the real power.
"Atiyah's death, if confirmed, will hasten the demise of al-Qaeda as a functional covert network. Although one must assume Atiyah prepared for his death, his contacts must nevertheless now wonder what U.S. intelligence personnel knew his activities and communications that might now put them at risk. In a network reliant on trust, that suspicion creates a host of challenges for regenerating Atiyah's functional role. The door is open for intelligence agencies to play all sorts of tricks on folks in Atiyah's network -- and his contacts must know that."
---