Saving Yiddish from Hebrew
(Read article summary)
Yiddish, the traditional language of European Jews, was almost entirely wiped out by the Holocaust and Israel's emphasis on Hebrew. But one man is attempting to save some space for it.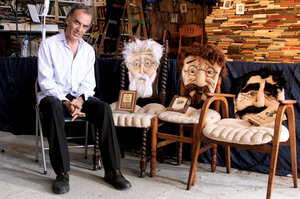 Daniella Cheslow
• A local, slice-of-life story from a Monitor correspondent.
It's an imperfect refuge – the walls shake every few minutes as buses trundle by, the standing fans whir in vain against the stifling heat, and the neighborhood is notoriously destitute. But to Mendy Cahan, the fifth floor of the Central Bus Station serves a greater purpose: a place to save more than 40,000 tattered Yiddish books from a paper mill.
Mr. Cahan grew up speaking Yiddish in Antwerp, Belgium. Although Yiddish – a mix of German dialects, Hebrew, and other influences written in the Hebrew alphabet – was once the lingua franca of Jews in Central and Eastern Europe, the Holocaust nearly eradicated their communities and their common tongue. The founders of Israel preferred to speak Hebrew.
Cahan moved to Israel in 1980 and began collecting books a decade later for his Yung YiDish organization. Now his holdings include the 1922 yearbook of the Forverts Yiddish newspaper and early Zionist political pamphlets. The greats of Yiddish literature are not simply confined to books. A puppetmaker donated three chairs to Cahan, each decorated with the face of one of the storied Yiddish writers: Sholom Aleichem, Mendele Mocher Sforim, and I.L. Peretz. Cahan also hosts Yiddish cabaret nights, klezmer music rehearsals, and poetry readings.
"Here in Israel, I noticed this strange predicament that Yiddish finds itself in," Cahan says. "After having paved the way through hundreds of years to build Jewish identity, finally we build our homeland and I find it unacceptable and wrong if Yiddish would not find its respectful, loving space."
---
Follow Stories Like This
Get the Monitor stories you care about delivered to your inbox.