Good Reads: the Anwar al-Awlaki effect, Amanda Knox verdict, and Israel's offer
(Read article summary)
Foreign Policy magazine questions how much safer the world is without Al Qaeda propagandist Anwar al-Awlaki; the press awaits the Amanda Knox verdict; and Israel offers peace talks, again.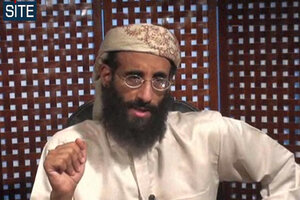 SITE Intelligence Group/AP/File
Good Reads highlights the best reporting and analysis available on the top international stories of the day – and other key topics you shouldn't miss.
With all the press attention that Anwar al-Awlaki's death received last week – the Al Qaeda in the Arabian Peninsula spokesman was killed by a US military drone in Yemen – you could be forgiven for thinking the war on terror was finally over.
But you would be wrong. As J.M. Berger writes in Foreign Policy, Mr. Awlaki's skills were largely restricted to the world of ideas – he was an Islamic scholar, with many books and inspirational tapes about the prophet Mohammad and the Quran. He only belatedly joined Al Qaeda's military fight in Yemen – and so his death may have little actual effect, aside from highlighting the (false) narrative he created for himself.
As Mr. Berger writes,
With his alleged death, the narrative that Awlaki wanted to sell us is now complete: the reasonable man, pushed too far, who reluctantly took up the gun and was finally killed by the enemy he dared face.

The effects of this story will likely reverberate for years to come; in the short term, Awlaki's death will probably elevate interest in his entire body of work, from beginning to end.
---