Good Reads: America's longest war, in Afghanistan, and Liberia's Nobel Laureate
(Read article summary)
On the 10th anniversary of the Afghanistan war, today's papers detail the lessons still to be learned. And in good news, Liberia's first female president, Ellen Johnson-Sirleaf, wins a Nobel Peace Prize.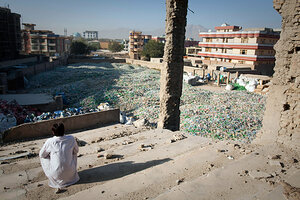 Anja Niedringhaus/AP
Good Reads highlights the best reporting and analysis available on the top international stories of the day – and other key topics you shouldn't miss.
Ten years ago today, American war planes began to pummel Taliban positions across Afghanistan in what became the first stage of America's longest war.
The bombing worked, and it did so quickly. Within a few days, Taliban fighters abandoned their positions and fled for the mountains. The armies of the Northern Alliance rolled into Kabul, and hundreds of foreign correspondents like myself rolled in as well to watch Afghans put their country back together after a decade of mujahideen civil war and misrule.
These were heady, hopeful times. Afghans greeted American soldiers in their Humvees with thumbs up, Afghan children followed American soldiers the way teenagers follow rock stars, reaching for their hands, asking for chocolates, mimicking their English. Afghans also looked to a new generation of leaders – Hamid Karzai being the most prominent – many of them returning from years of exile in the West, and gave them the greatest opportunity of a generation to recreate a society from the ground up.
---