Thailand floods: When journalists embellish visuals
(Read article summary)
Thailand's devastating flood has made for countless memorable images. But some journalists appear to be staging their own scenes without disclosing that to viewers, undermining the purpose of journalism.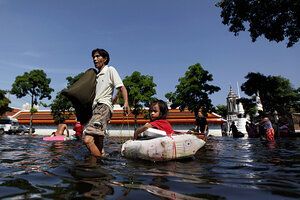 Altaf Qadri/AP
Central Thailand's devastating months-long flood, which has so far cost some 500 lives and billions of dollars in damage, has made for countless poignant scenes and memorable images. But that hasn't stopped some journalists from staging their own, highlighting an ongoing issue that undermines the credibility and purpose of reporting.
One recent morning a British television station's local correspondent stood knee-deep in water speaking to the camera.
A few yards away, several Thais stood, unmoving, on a small embankment of sandbags, gazing pensively at their feet. These locals, the foreign reporter explained, were faced with a daunting challenge: whether they should dare to cross to the other side of a small alley covered in water.
Off camera, boys and girls splashed about, laughing and smiling, in the flood, while other locals, wearing plastic flip-flops or rubber wading boots, went about their business.
Once the foreign journalist had said his piece on camera, he turned to the Thais standing on the small sandbags and thanked them for their cooperation.
They smiled, stepped into the water, and walked away. They seemed quite unfazed by the prospect of wading through 10 or so inches of water in a country where many people are used to seasonal floods, if not as severe as this year's.
Admittedly, several miles away on the northern outskirts of the city, where flood waters stood 3- to 5-feet deep, many locals were indeed prevented from getting around at ease. But that was not the case here.
---