Europe's debt crisis: What's next for Italy and Greece?
(Read article summary)
Italy and Greece are working to cobble together interim governments to avoid bankruptcy as Europe's debt crisis rolls on.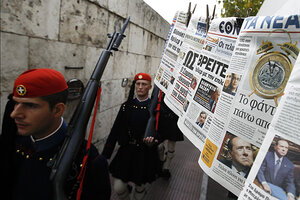 Yiorgos Karahalis/Reuters
Efforts to wrest southern Europe from the throes of a debt crisis continued in fits and starts today.
Italy's Prime Minister Silvio Berlusconi clarified today that he will not run again for high office after he steps down as prime minister, and Greece is struggling to hash out who will lead an interim government designed, in part, to avert bankruptcy.
Europe, long seen as quiet, stable, and almost boring, moves into uncharted waters as fallout from an accelerating euro crisis proves to have high-stakes political consequences. Governments in Ireland and Portugal were replaced earlier this year, and now Greece and Italy face a political reordering that is both complex and emotional.
A new Greek government is slated to be announced today. The interim government will be capable of passing a controversial austerity plan linked to a €130 billion ($177 billion) bailout and a tranche of the €8 billion ($11 billion) needed for a fateful December deadline to pay back bond holders.
Greek officials under pressure from the EU announced that the new team would be named yesterday, but ongoing emergency meetings last night proved inconclusive.
Whether the interim prime minister will be Lucas Papademos, a former deputy head of the European Central Bank who has been named repeatedly as possible choice, remains unclear.
Hurdles to a quick decision reportedly include Mr. Papademos's desire to choose his own team and unhappiness from the New Democracy Party opposition over an EU requirement that acceptance of the bailout terms be put in writing by the unity government.
---