Good Reads: Karzai's loya jirga, Occupy Wall Street protests, and Putin's peace prize
(Read article summary)
At a traditional loya jirga meeting of elders, Afghan President Hamid Karzai makes the case for continued partnership with US, while a New York judge orders city officials to shut down Occupy Wall Street's tent city.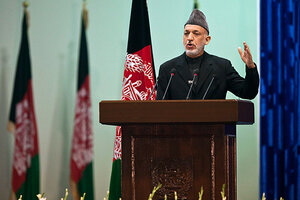 Ahmad Masood/Reuters
As horrible as they are, wars are the milestones of life. Historians spend lifetimes puzzling how we humans get into them, and political scientists create elaborate theories on how we can get out of them.
In Afghanistan, with the US drawdown of military forces underway, Afghan President Hamid Karzai has called an extraordinary meeting of village and tribal elders called a "loya jirga," to chart the path forward for that rugged, mountainous, but utterly charming country.
The biggest issue, writes Alissa J. Rubin in The New York Times, is just what kind of relationship Afghanistan should have with its erstwhile protector, the United States. In many villages, US troops have long ago worn out their welcome, and Mr. Karzai's government has openly suggested peace talks with the Taliban.
But at the loya jirga, Karzai told elders that the US could still have a role to play in rebuilding Afghanistan, although it would be a role dictated by the Afghan people's own national interests.
"It's O.K. that they are strong and rich and powerful, but we are lions. Weak and old and sick, a lion is still a lion, in the forest everyone avoids a lion even if it is old and sick and weak. A lion doesn't like it if a stranger comes to his house, he doesn't want his children taken by foreigners during the night, the lion doesn't want parallel government structures. "
---