Pakistan coup rumors: Could the military take over again?
(Read article summary)
Coup rumors come at a time of great public dissatisfaction with Pakistan's President Asif Ali Zardari and growing disenchantment among the military with the US alliance.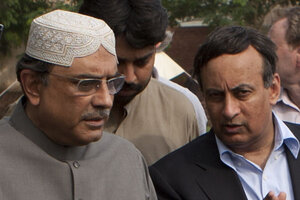 B.K.Bangash/AP/File
There's never a good time to be worried about your health. But when Pakistani President Asif Ali Zardari flew to Dubai on Tuesday to undergo tests after what his spokesman called a "minor heart attack," the rumors grew thick and fast that President Zardari would be ousted in a coup.
Pakistan is a rumor-prone place, despite having a fairly independent press, and both Pakistani and US officials were quick to tamp down any rumors of a military coup. But Zardari's health problems come at a time when he is deeply unpopular with his own people, both over the usual issues of corruption and over his handling of international relations with the US, which have reached a nadir.
In theory, the US and Pakistan are allies in the fight against the same terrorist group, Al Qaeda, and supporters of a democratic regime in Afghanistan. But a spate of recent events shows how much the US-Pakistani relationship has soured.
The US capture and killing of Osama bin Laden on May 1, 2011, just yards away from a Pakistani military installation this year
The arrest and release of a CIA contract Raymond Davis for killing two Pakistanis on a motorbike in late January 2011
The continued US use of military drones over Pakistan, aimed at insurgents, but occasionally killing civilians as well
The apparently mistaken November 2011 bombardment of Pakistani soldiers by NATO forces in Afghanistan
And more recently, the withdrawal of Zardari's ambassador to the US, Husain Haqqani, after news emerged that he supported the civilian government
---