Pushing racial buttons, a young firebrand stirs up South Africa
(Read article summary)
The ruling African National Congress party has suspended its youth league leader Julius Malema for hate speech, but his career is far from over.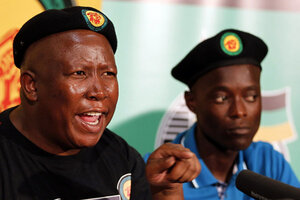 Siphiwe Sibeko/Reuters
For a while, he strode South Africa like a colossus. He was Julius Malema, the ruling African National Congress's Youth League leader, and if he didn't like you, he'd tell you to "jump."
But last month, the ANC suspended Mr. Malema from the party for undermining party leadership and for denouncing the Botswanan government of President Ian Khama, in conflict with ANC policies. And Malema had been taken to the ANC's disciplinary panel before. In May 2010, he was fined 10,000 South African rand (about $1,200) and forced to take anger-management classes after he criticized President Jacob Zuma. (Malema is currently still able to speak at ANC events until the ANC's internal appeal process ends, a fact of some horrified fascination for some South Africans, who thought that perhaps the suspension decision had closed the door on Malema.)
It is this very intemperance in public speaking that explains South Africa's fascination with this not-so-young youth leader – he is 30. How in the world, many South Africans wonder, did this young man make it into politics in the first place?
The short answer to that question is that Malema rose to prominence as the ANCYL's leader. Together with the Congress of South African Trade Unions, the ANCYL endorsed Jacob Zuma to replace President Thabo Mbeki as head of the ANC. Having installed Zuma in power, Malema then set his eyes on changing ANC policy on everything from the ownership of farmland to the nationalization of mines, and anyone who disagreed with him was likely to be branded a traitor, or worse.
---