US military report shares blame on NATO bombing of Pakistani soldiers (VIDEO)
(Read article summary)
Relations between US and Pakistan have soured so much that the report on the NATO bombing is likely to have little effect. Instead, Pakistanis fret about rumors of a possible military coup.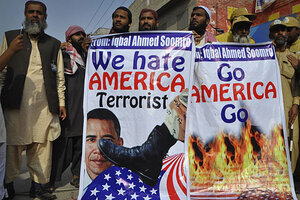 Nadeem Soomro/Reuters
A US military investigation into the Nov. 26 NATO bombardment of two Pakistani checkpoints has cast blame on both the Americans and the Pakistanis. The report, released yesterday, said that the Americans failed to share crucial information about their future military movements because its commanders didn't trust their Pakistani counterparts, but also said that Pakistani troops fired on a joint US-Afghan patrol, even after the joint patrol identified itself.
NATO bombs killed 24 Pakistani soldiers, an event that worsened already bad relations between the two supposed allies. The report doesn't appear to have improved matters. Pakistani military officials rejected the report, with Army spokesman Maj. Gen. Athar Abbas calling it "short on facts."
"Pakistan's army does not agree with the findings of the US/Nato inquiry as being reported in the media," Gen. Abbas told reporters in Islamabad. "The inquiry report is short on facts."
The Nov. 26 incident occurred when a joint US-Afghan commando raid on a supposed militant camp on the Afghan-Pakistan border apparently stumbled onto a Pakistani paramilitary force instead. US investigators say the Afghans and Americans came under fire, and called in for air support when the Pakistani patrol continued to fire.
---
Follow Stories Like This
Get the Monitor stories you care about delivered to your inbox.