2011 Reflections: the end of a landmark year for Latin America
(Read article summary)
Seven Monitor correspondents reflect on the world's hot spots. In this installment, Sara Miller Llana says Latin America has economically boomed this year as the US and Europe struggle.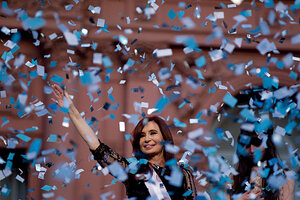 Natacha Pisarenko/AP
As 2011 comes to a close, Latin America's future looks bright, with poverty at its lowest level in 20 years – 31.4 percent – and economies growing, thanks to earlier market-oriented reforms, the high prices of commodities, and new trading partners, especially China.
In the ultimate role reversal, as Europe and the United States struggle, Latin America has shined.
Even Cuba made major economic progress, albeit out of necessity, granting more licenses for entrepreneurs and allowing for the sale of real estate and cars. But shadows of the past have clouded the region as well, especially in elections.
In Central America, two cold-war-era figures won presidencies, with retired Army Gen. Otto Perez Molina winning Guatemala's runoff, and Sandinista Daniel Ortega winning another term in Nicaragua (unconstitutionally, many argue). Mr. Perez Molina is accused of human rights abuses during the civil war; Mr. Ortega was a US foe as president in the 1980s after Nicaragua's revolution.
And then there is growing discontent with dynastic influences.
In Peru, Keiko Fujimori, daughter of disgraced former dictator Alberto Fujimori, made it to the runoff in June (she lost to Ollanta Humala).
---