2011 Reflections: Iraqi resilience amid war
(Read article summary)
Seven Monitor correspondents reflect on the world's hot spots. In this installment, Scott Peterson explains why despite the risks, he kept going back to tell the stories of Iraqis.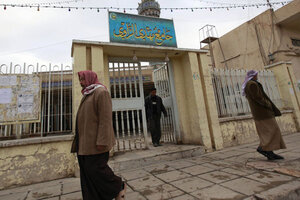 Hadi Mizban/AP
In the darkest years of the Iraq war, in 2006-07, some 3,000 Iraqis were being killed every month. Every day the bodies of ordinary Iraqis appeared on the streets, tortured in a vicious sectarian war – or blown up by car bombs and suicide bombers.
Back then, kidnappings afflicted Iraqis and foreigners alike. Monitor reporter Jill Carroll was released after 83 terrifying days; many others fared much worse.
The question came too often to ignore, from my friends and family – and even surprised Iraqis – about why I continued reporting from Iraq.
My answer was always the same: Despite the magnitude of murder, there were also 5 million Iraqis in Baghdad alone who survived every day.
I wanted to tell their stories.
Those narratives could be as inspiring as they were often grim, as Iraq's social fabric frayed under the weight of violence. While the death toll has since dipped (to about 150 civilians per month), many risks remain: In the days after the final US troops flew out of Iraq on Dec. 17, the government of Shiite Prime Minister Nouri al-Maliki issued an arrest warrant for a key Sunni rival, which could prompt sectarian feuds to reignite.
But Iraqi resilience has remained strong, no matter what the challenge.
There was the Methboub family, whose widowed matriarch, Karima, kept her eight children alive and laughing, despite impossible poverty as the post-Saddam Hussein world exploded around them.
I found hope in the war diary of daughter Amal, who wrote by candlelight of her fear during the invasion – and of celebrating her 14th birthday as the bombs fell.
---