Should Queen Elizabeth be a 'have-yacht' among have-nots?
(Read article summary)
Reports that a British government official proposed that the royal yacht for Queen Elizabeth be funded with public money has stirred up anger in a time of austerity.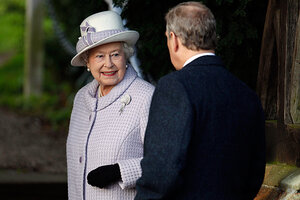 Suzanne Plunkett/Reuters/File
It's the other big boat story this week: Does Queen Elizabeth need or deserve a new royal yacht to mark her 60th year on the throne? The debate is hotting up, with Prime Minister David Cameron sailing into rough seas of opinion after supporting the idea, despite an epic year of job loss and austerity in the United Kingdom.
Cameron's Liberal Democrat coalition partner Nick Clegg, who has been pushing "tax the rich" schemes of late, told reporters it was a debate about "haves and have-yachts."
In a memo this fall, Education Secretary Michael Gove floated the idea of funding a $125 million yacht with Britain's public funds. Mr. Gove, a staunch monarchist, was worried that her majesty's Diamond Jubilee could be overshadowed by the 2012 Olympic Games to be held in London.
The proposed vessel would replace the former royal yacht Britannia, whose decommissioning in 2006 caused a famous tear from Queen Elizabeth.
The notion of using public funds to buy a yacht for one of the world's richest women in the midst of a dire economic climate was quickly scotched by Mr. Cameron, who favors private financing for the idea.
---