Chávez appointment - a slap to Colombia?
(Read article summary)
Venezuela President Hugo Chávez's new defense minister is worrying officials in both the US and Colombia because of his links to Colombia's FARC rebels.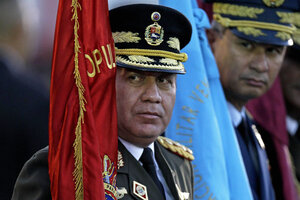 Fernando Llano/AP
Colombian President Juan Manuel Santos has tried to build better relations with his counterpart in Venezuela, Hugo Chávez, who once accused the Colombian president of trying to have him assassinated.
But as Mr. Chávez enters election year with stepped up rhetoric aimed at Washington and the opposition at home, Mr. Santos may be caught in the crossfire. One of the primary sources of antagonism between the two nations was Chávez's alleged links to the Revolutionary Armed Forces of Colombia (FARC).
The links are personified by Venezuelan Gen. Henry Rangel Silva, who was accused by the United States in 2008 of aiding drug trafficking and pushing for cooperation between the Venezuelan government and FARC.
Chávez swore in General Rangel Silva this week as Venezuela's new defense minister.
The ceremony came just days after two major Colombian news outlets published correspondence which they claim proves that Rangel Silva was for a long time the principle contact between the Venezuelan government and FARC and also shows links between the general and FARC's newly appointed leader Rodrigo Londono, also known as Timochenko.
---