US files charges against Megaupload in 'largest copyright case'
(Read article summary)
US prosecutors say that the video-sharing site Megaupload.com cost the US entertainment industry $500 million. Online activists worry the US case could stifle Internet freedoms around the world.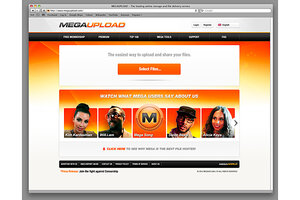 AP
In New Zealand, police had to cut through an iron door of a safe room to get their fugitive, Kim Dotcom, the founder of an Internet-based video sharing site called Megaupload.com.
Mr. Dotcom (a German citizen born as Kim Schmitz), along with six of his colleagues, has been charged with criminal copyright infringement, racketeering, and money laundering.
Meanwhile, a worldwide network of hackers took up the battle on behalf of Megaupload.com, launching a massive denial-of-service attack on several entertainment websites, as well as on the US Department of Justice website.
The mayhem and legal proceedings are just the opening shots in what US prosecutors are calling the largest criminal copyright case ever, and involves $500 million in damages to the entertainment industry, as well as complex legal issues of what constitutes copyright infringement in the age of YouTube, Facebook "liking," and DVD burners. And the legal battle is likely to reverberate around the world, as countries contemplate their own laws over intellectual property rights.
If found guilty, Dotcom and his Megaupload associates – who are thought to have earned up to $175 million by selling advertisements on their website –could face 20 years in prison.
---