With reelection prospects dimming, Sarkozy warns his career is 'at the end'
(Read article summary)
Between the eurozone crisis, rising challenges from rivals, and growing French dissatisfaction with his leadership, Sarkozy has reason to worry about his reelection prospects.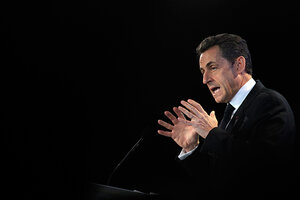 Jean-Paul Pelissier/Reuters
French President Nicolas Sarkozy is famous for bluntly speaking his mind, and for shining the brightest in the midst of a crisis. But now Mr. Sarkozy faces a crisis that he may not surmount – his reelection – and he is bluntly saying his political career may be over.
The president even told his aides, with a slightly dark Nixonian note, that if he is not reelected in April, "I'll change my life completely, and you won't hear from me again."
"In any case, I am at the end," Sarkozy said on a trip back from French Guyana Monday night within earshot of reporters who leaked the conversation, despite it being off-the-record. "For the first time in my life I am facing the end of my career."
France is mired in economic doldrums, capped off with a downgrade of its triple-A credit rating earlier this month. Between that and socialist candidate Francois Hollande, who delivered a tub-thumping speech on Sunday that showed he can move a crowd, Sarkozy faces both a toughening race and poll numbers that may not improve enough by April.
Ironically, Sarkozy has not yet announced whether he will actually run. But his comments Monday suggest he will quit politics only after a political fight. If he doesn't run or runs and does not win, Sarkozy will become the first French president since the 1970s to serve only one term.
In polls this fall, roughly 30 percent of respondents said they would vote for Mr. Hollande in the first round – a strong lead over Sarkozy, with 24 percent.
---