As snow falls in Britain, Heathrow upholds reputation as travelers' 'black hole' (+video)
(Read article summary)
London's Heathrow airport is once again the target of criticism after a preemptive shutdown hours before a light snowfall in the United Kingdom.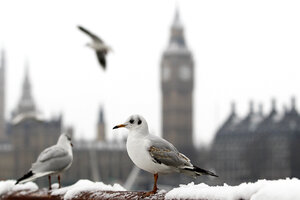 Kirsty Wigglesworth/AP
Heathrow airport outside London is known to baffle, confuse, and often infuriate passengers and airlines – a reputation sustained this weekend after a draconian decision to shut service for half of all flights after only three inches of snowfall.
The first big snow of the winter in the United Kingdom brought a blizzard of criticism to one of the world's most trafficked airports, raising the question of how soon should a major world hub act on weather predictions.
Using a preventive safety plan newly designed to help passengers avoid being stranded, the world's third largest airport and European hub cancelled a third of flights nine hours before any snow fell Saturday, then persisted in keeping half its flights on the ground into Sunday afternoon, even as most runways were clear.
Airport operators admitted Monday that despite years of trying to address various logistical problems, that snow is still one they have yet to master. About 600 of some 1300 flights were cancelled, affecting some 18,000 passengers, reports the Telegraph.
Critics pointed out that while Heathrow was largely closed and London-bound passengers were diverted to Ireland, the Netherlands, and Scotland, airports in Germany and Scandanavia, which had more snow and lower temperatures, continued to operate.
One Russian woman who took off from Moscow in temperatures of 20 below was shocked to arrive in the British Isles Sunday to see the runways clear, according to a Telegraph reporter.
---