A cricket game to end all war? Afghanistan takes on Pakistan.
(Read article summary)
Maybe not, but as Afghanistan played its first major international cricket match today against rival Pakistan, some hoped the goodwill between the players on the field would translate into better relations off it.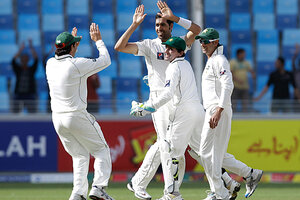 Hassan Ammar/AP
For the first time – ever – Afghanistan today played an international cricket match against an elite team. It was against top-ranked neighbor Pakistan, with whom it has a relationship that is sometimes fraught with uneasiness, sometimes full of professions of brotherhood.
But the historic cricket match, which took place in the UAE, both illustrated the love/hate relationship and helped fans on both sides of the border to forget, at least for a while, the tensions that exist between their countries.
"Everyone here is watching the match on TV. It's very exciting and we're praying hard for Afghanistan," Pardis Haidary, a military officer in Kabul told the Monitor over the phone. "Matches like this help build friendship," he says.
For newcomers Afghanistan, it was their first chance to pick up the bat against a major international team, having previously only played against other low-ranked teams.
Cricket was brought to war-torn Afghanistan through refugees who picked up the game during their time in Pakistani camps, and is popular mainly in the Pashtun-majority areas in the south and east of the country.
Though Afghanistan is new to the game, its rise has been nothing short of a "wonderful story," according to the International Cricket Council, which provides the Afghanistan Cricket Board with $700,000 a year to develop the sport.
---