Nothing says spring equinox like Marimekko
(Read article summary)
Google celebrates the spring equinox with a colorful doodle based on the floral and fauna designs of Marimekko, a Finnish company renowned for its bold 1960s patterns.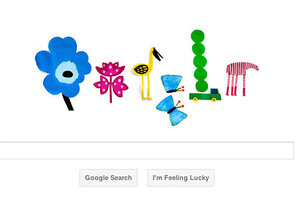 Google
Google celebrates the spring equinox – the first day of spring – with a splash of colors and designs by Marimekko, the Finnish design house.
If you are a fan of "Sex and the City," shop at Crate & Barrel, or remember the 1960 sartorial choices of Jacqueline Kennedy, you will recognize Marimekko's distinctive patterns.
Marimekko embrace of bold colors and design began in 1951. It was the middle of the post-World War II reconstruction, and founders Vilio and Armi Ratia tapped into Finland's longing for a fresh start and brighter colors.
Marimekko products – the name literally means "Mary's dress" in Finnish – first gained fame beyond Scandinavia in 1957 when the company was invited to to a fashion exhibition in Milan, Italy. The show was cancelled, but the garments were showcased by Giorgio Armani, then store manager of Rinascente, a luxury department store in Milan.
Ratia's entrepreneur acuteness combined with bold textile designs would transform the company into "one of the true icons of a very particular era: the idealistic, vibrant days of the 1960s" wrote Ivar Ekman in the New York Times.
With the vision of pioneering Finnish textile designers Maija Isola and Vuokko Nurmesniemi, Marimekko introduced bold fabrics that revolutionized the industry and became synonymous with dynamic women.
---