Hong Kong sees surge of democratic fervor after 'patriotic education' showdown
(Read article summary)
Hong Kong had the highest turnout in memory for elections yesterday, underscoring its commitment to the 'two systems government' that Beijing agreed to in the 1997 handover.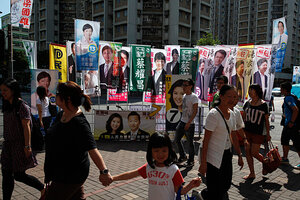 Bobby Yip/Reuters
Hong Kong's highest election turnout in years yesterday showed a thriving democratic sentiment in a nation that otherwise doesn't go to the polls.
The heavy turnout hinged on tumult surrounding a "patriotic" education plan for Hong Kong schools – seen as a proxy for Beijing propaganda – and voter desire to weigh in on the future of the pilot program, which was rejected by all but two of hundreds of schools on the island.
Yesterday's vote showed political sophistication, analysts say, aided largely by youth, in a vote where bread-and-butter issues like housing and pay figured prominently as well.
Young Hong Kongers spurred a political protest "movement bigger than anything I've seen in a long time," says Michael DeGolyer, who has long studied city politics at Hong Kong Baptist University. "You had 16-year-olds bringing their parents into politics, not the other way around."
The patriotic education course was aimed at elementary-level students and got heavy criticism for teaching little or nothing about cataclysmic events like the Great Leap Forward, the Cultural Revolution, or the Tiananmen Square massacre.
Critics branded it "brainwashing."
Hong Kong has long harbored a distrust of mainland Beijing's heavy-handed efforts to "make" Hong Kong a "Chinese" city, even as Hong Kong's history, civil service, education, and business acumen make it a financial services hub with international characteristics.
After the crippling SARS outbreak in 2003 and efforts by Beijing to institute a "subversion" law that would throttle free expression, Hong Kong's civic base has steadily mobilized, despite handicaps in the city governing structure, which favors Beijing.
---