China to protesters: 'Please express your patriotism in a rational and orderly fashion'
(Read article summary)
Chinese protesters followed the rules on Tuesday, obediently forming small groups and awaiting their turn to march past the Japanese embassy to express anger over disputed islands.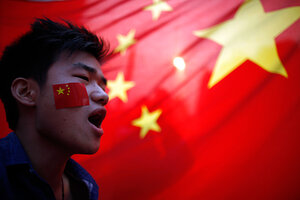 Carlos Barria/Reuters
The first sign of just how closely the Chinese authorities were monitoring and controlling today's anti-Japanese demonstrations here came on my cellphone.
It was an SMS from the Beijing police. Barely had I arrived in the vicinity of the Japanese embassy, the target of a fourth day of protests over a territorial dispute, than the message popped up on my screen.
"The Beijing Public Security Bureau reminds you to please express your patriotism in a rational and orderly fashion and to follow police instructions. Thank you for your cooperation," it read.
The Chinese government was clearly anxious that Tuesday's demonstrations, marking the anniversary of the incident that sparked Japan's 1931 occupation of Northeastern China, should not turn violent, as had happened over the weekend.
The protesters, mostly young men, many waving red and gold Chinese flags or portraits of Mao Zedong, were doing as they were told by organizers. Obediently they formed up in small groups and awaited their turn to march past the embassy, where they slowed down just long enough to throw bottles of water at the gates.
Any hotheads in the crowd who might have wanted to do more were dissuaded by the sight of helmeted riot police standing shoulder to shoulder along the roadside, reinforcing thousands of police officers who were making sure, megaphones in hand, that everybody kept moving. Also reinforcing the police were civilian security volunteers wearing armbands, and reinforcing them were dayglo-orange-waistcoated traffic wardens.
---