Taiwan enters island fray, but China and Japan shrug
(Read article summary)
Boats from China and Japan chased each other around a set of disputed islets, setting off a diplomatic crisis. But when Taiwan entered the fray, neither side seemed to care.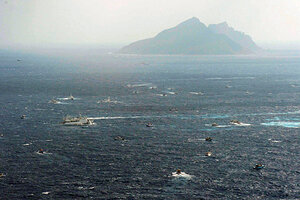 Kyodo/Reuters
If it were another country, Taiwan would be in hot diplomatic water.
The government in Taipei said last week it wanted to be a peacemaker in a sovereignty dispute involving a set of uninhabited islands in the East China Sea. Boats from China and Japan had chased each other around the islets they both claim, setting off mass protests in China that sent Sino-Japanese relations to a new low.
Then this week, Taiwan stopped talking about peace as 12 of its coast guard vessels escorted some 50 Taiwanese fishing boats to the islets, a sort passive-aggressive reminder of its own claim to islets that are 137 miles from Taiwan. Japan controls the islands, which it calls the Senkakus, and sprayed water cannons at Taiwan's boats to keep them away.
But instead of setting off a diplomatic crisis, no one appears to be taking Taiwan too seriously – at least not yet.
As far as China is concerned Taiwan is still part of China even though a Nationalist Party set up a rival government in Taipei after losing the Chinese civil war to the Communists in the 1940s. Beijing believes it will capture Taiwan someday even though the two sides are now self-ruled. By that logic any new territory Taiwan locks in would eventually go to China anyway.
At the same time, Japan and Taiwan can hardly live without each other. The former World War II colonizer is today one of Taiwan's top five sources of tourism. Common Taiwanese take fashion, food, and shopping cues from peers in Tokyo while a strong contingent of conservative Japanese lawmakers who dislike communist China embraces Taiwan as a friendly fellow democracy.
---