Boy or girl, Kate's royal offspring likely to reign - eventually
(Read article summary)
The centuries-old tradition that gave male children precedence in succession to the British throne has been scrapped, with a new gender-equal law coming soon.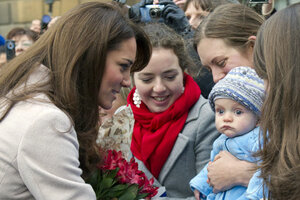 Arthur Edwards/Reuters/File
Today's announcement that the Duke and Duchess of Cambridge – also known as Prince William and Princess Kate – are expecting a baby was met with a right royal hue and cry by the British press.
Kate, formerly Kate Middleton, is currently in hospital being treated for morning sickness. Verifiable facts are thin on the ground, but one thing is known for sure: regardless of the sex of the child, he or she is likely to reign – eventually.
Primogeniture, the rule that male children take precedence in succession to the throne, has been scrapped. The centuries-old tradition was ended last year at a meeting of the Commonwealth of Nations, a supra-national group of countries mostly consisting of former parts of the British Empire.
The laws to do this haven't even been tabled yet, though they may take on a new urgency given the announcement.
"A de facto change has already been introduced pending the legal changes that now need to be made," said deputy prime minister Nick Clegg, speaking to the British Parliament in November.
Then again, perhaps not that much urgency given it will be a long time before this child basks in the regal glory of coronation anthem, Handel's Zadok the Priest: Queen Elizabeth II shows no signs of quitting the throne at all.
---