A traditional Sinterklaas debate: Is 'Black Pete' racist?
(Read article summary)
Every Dec. 5, Sinterklaas – the Dutch and Belgian Santa Claus – is celebrated. And the debate over Black Pete, his helper who is usually portrayed by whites in blackface and curly wigs, is rekindled.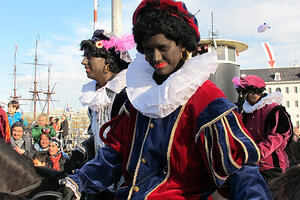 Margriet Faber/AP
Tonight, as is the tradition on Dec. 5 in The Netherlands and Belgium, many children will receive gifts from Sinterklaas, or St. Nicholas. But there's another, more recent tradition that accompanies the holiday as well: the debate over Sinterklaas's traditional helper, Zwarte Piet, or "Black Pete."
For decades, the celebration of Sinterklaas has been surrounded by a discussion about whether Black Pete, who is traditionally portrayed by whites in blackface and wigs of curly black hair, is racist. This year is no different: One of Amsterdam's aldermen on Monday said that it is time to say farewell to the saint's black servant.
"When the Sinterklaas celebrations began, there was no Black Pete, and it's time to continue without Black Pete," Andrée van Es said on Monday in the Amsterdam newspaper Het Parool.
Sinterklaas is a tradition that has been traced back as far as the 15th century, and originally, Black Pete was a cruel man who would punish children who didn't behave. But it wasn't until Jan Schenkman's popular book "Saint Nicholas and His Servant" was published in 1850 that Sinterklaas – and Black Pete – truly became a national celebration in The Netherlands.
---