Beijing targets those who cross the street 'with Chinese characteristics'
(Read article summary)
Beijing's 'strike hard' campaign aims to tame the anarchy that reigns at crosswalks and intersections. Our correspondent's take: 'Good luck.'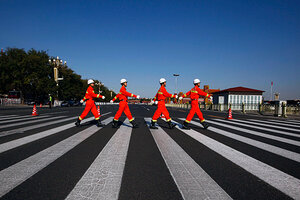 David Gray/Reuters/File
Beijing's finest, ever vigilant on the law-and-order front, have set themselves a challenging new task: to eradicate the phenomenon known as "crossing the road, Chinese-style."
A new "strike hard" campaign, launched last week, is aimed at "bringing order to traffic and security" at the city's intersections, according to the Beijing municipal police website.
Good luck to them.
The police appear to have been goaded into action not so much by the anarchy that has long reigned on most Beijing streets, but by an online comment that went viral a few weeks ago.
A blogger remarked – entirely accurately – that crossing the road with Chinese characteristics has nothing to do with whether the lights are red or green. The determining factor is how many people are waiting on the curb. Once a crowd has reached critical mass, it moves.
As more and more Beijingers buy cars, and drive them without necessarily bothering to get a license, life for the city's crowds of pedestrians and its diminishing band of cyclists has grown increasingly hazardous.
Pedestrian fatalities in China are 18 times higher, per 100,000 motorized vehicles, than in the United States, according to Ni Ying, who did her doctoral thesis on the dangers of Chinese crossroads.
"High rates of pedestrian noncompliance and low rates of driver-yielding behavior" accounted for the Chinese statistics, she concluded.
Jaywalking is a national habit that the capital's police would like to break, but they are not training their sights on pedestrians alone. The goal, says the official website warning, is also to enforce drivers' lane discipline and to stop cyclists crashing red lights, carrying passengers on the back seat, and riding the wrong way up cycle lanes.
---