Russia plans biggest war games since Soviet era
(Read article summary)
Some see the naval exercises scheduled later this month as cover for a massive evacuation of Russian citizens from war-torn Syria.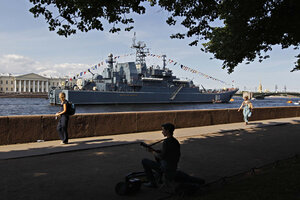 Alexander Demianchuk/Reuters
The Russian Navy has announced that it will hold its biggest war games since Soviet times in the Mediterranean and Black seas later this month.
The ambitious exercises, which will involve ships from all four major Russian fleets, are a sign of growing confidence on the part of Russia's military as it begins to enjoy the benefits of President Vladimir Putin's huge budget allocations for renewing and reequipping all branches of the armed forces.
The purpose of the war games will be to strengthen integration between different types of forces and gain practice with major military deployments outside Russia's immediate neighborhood, the Defense Ministry said in a statement Tuesday.
As part of the maneuvers, naval ships will arrive at an "unprepared" coast in the Russian northern Caucasus region to take amphibious troops onto transport vessels.
"The primary goal of the exercise is to train issues regarding formation of a battle group consisting of troops of different branches outside of the Russian Federation, planning its deployment and managing a coordinated action of a joint Navy group in accordance with a common plan," the ministry's statement said.
The participating ships, it said, will be drawn from all of Russia's four major naval formations: the Northern, Baltic, Pacific, and Black Sea fleets.
---