For Israelis, Obama has finally arrived
(Read article summary)
President Obama hit all the right notes for winning over skeptical Israelis during his first state visit to the critical ally.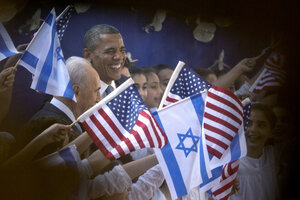 Carolyn Kaster/AP
Like Jerry McGuire, who won his wife back with a simple "hello," President Obama seemed to capture the hearts of Israelis with the first word of his speech upon touching down at Ben Gurion airport: Shalom.
As Obama moved into a carefully scripted speech that swept back millenniums to recognize Abraham and Sarah as the ancient claimants to the land of Israel, Amir Mizroch, editor of the English edition of Israel Hayom, tweeted: "Stop it, stop it, you had me at Shalom."
Obama even trotted out a bit of Hebrew, telling his listeners: tov l'hiyot shuv b'aretz – It's good to be back again in "the land," the colloquial term for Israel. It was the first clip played in an unusually long evening news program about his visit.
To be sure, there were hiccups as well. Obama's "beast," the super-duper secure limo that ferries him around even on foreign visits, broke down when someone – the Israelis insist it was the Americans – put in the wrong kind of gas. Prime Minister Benjamin Netanyahu's joke about preparing Obama a fake moustache so he could ditch his security people and secretly sample Tel Aviv's bars fell flat. And there were complaints that several ministers in the new government had asked Obama to free Israeli spy Jonathan Pollard, to which he reportedly responded: "Nice to meet you," or "Nice to see you again."
---