Good Reads: From teens and Facebook to the culinary tastes of 'Dear Leader' to a new 5G cellphone
(Read article summary)
This week's round-up of Good Reads includes Facebook losing favor among teens, the first menial jobs of the rich and famous, reminiscences by Kim Jong-il's sushi chef, new campuses for the headquarters of tech giants, and the world's fastest cellphone.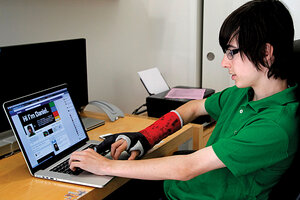 Nick Ut/AP
Fading enthusiasm for Facebook
Teenagers hate Facebook, according to a new study by the Pew Internet & American Life Project. They also can't get enough of it. The report found that 94 percent of American teens are on Facebook, more than on any other social network. But many of the young respondents have lost enthusiasm for the site, complaining about "the increasing adult presence, people sharing excessively, and stressful 'drama.'" Despite these frustrations, teens say they keep using Facebook because it has become a key part of socializing.
"I think Facebook can be fun, but also it's drama central," one girl told a Pew researcher. Another said: "Honestly, I'm on it constantly but I hate it so much."
While these findings might seem troubling, they also sound a lot like young people's feelings about high school in general. The big difference is how the social network follows teens home. Pew found a significant rise in the kind of material that students share on Facebook compared with what was shared in 2006: 92 percent now reveal their real names, 91 percent post personal photos, 24 percent upload videos of themselves, 20 percent publish their phone numbers.
What was your first job?
Does your first job define you? Kate Rockwood, writing for Fast Company, asked several major names in business and entertainment about where they began. The consensus: You can start from anywhere.
Among our favorite first jobs in the illustrated slide show: Doug McMillon, chief executive officer of Wal-Mart International, started off unloading boxes in a Wal-Mart warehouse. Before directing the highest-grossing movie of all time (and then breaking his own record), James Cameron was a truck driver. Martha Stewart began as a $50-an-hour model for Chanel and others. Actress and writer Tina Fey kicked off her professional life answering phones at a suburban YMCA. And Liu Chuanzhi, cofounder of computer giant Lenovo, was a laborer in the rice fields during Mao's Cultural Revolution.
---