Good Reads: From rules for rebels, to elevator cables, to an enchanting sci-fi world
(Read article summary)
This week's round-up of Good Reads includes rules for arming rebels, defense contractors may know more than our own government, buildings may get taller thanks to new elevator cables, a profile of a cyberwar general, and sci-fi brings magic back to the mundane.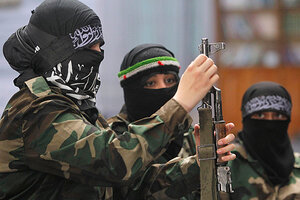 Muzaffar Salman/Reuters
Rules for arming Syria
With the United States inexorably heading toward greater involvement in Syria's civil war, the need to figure out the "rules of engagement" has taken on more urgency. In a Foreign Policy piece titled "5 Rules for Arming Rebels," Edward Luttwak offers a list that's short and simple – but not easy.
Rule No. 1: "Figure out who your friends are" – presents no easy task in sizing up the various Syrian insurgent groups. Rule No. 4: "Do not invite an equal and opposite response by another great power" – translates as "Make sure you come to an understanding with Russia, the patron of Syrian President Bashar al-Assad, before diving in." Russia may insist that Mr. Assad play some continuing role.
"The Obama administration ... can convincingly argue (despite the somewhat inconclusive and murky assertion that Assad's use of chemical weapons has now been verified) that it must provide some help to the rebels simply to deny a victory to Iran and Hezbollah," Mr. Luttwak writes. "Even so, one hopes that it retains its prudence – and keeps these five rules in mind."
---