Good Reads: From domestic violence, to lion survival, to the cost of Medicare
(Read article summary)
In this week's round-up of Good Reads includes fighting domestic violence, a look at how lions survive, why apps can't end poverty, Greek youth unemployment, and the Medicare panel that decides your health-care costs.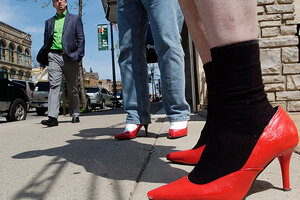 Randy Roberts/The Courier/AP
To fight domestic violence
Between 2000 and 2006, more than 10,600 people were killed in domestic homicides in the United States. About 3,200 US soldiers were killed overseas during the same period. A new approach to assessing domestic homicide risk could change the trajectory of these crimes.
In The New Yorker, Rachel Louise Snyder highlights cases overseen by Kelly Dunne, chief operating officer of the Jeanne Geiger Crisis Center in Amesbury, Mass. In 2005, Ms. Dunne created a Domestic High Violence Risk Team, which began including local police, hospitals, and courts when assessing domestic homicide risk case by case.
"Dunne attributes the prevalence of domestic violence, in part, to a deep cultural misunderstanding of how violence operates," writes Ms. Snyder. "We assume that victims incite abuse, or that if the situation at home was truly threatening they would leave. Restraining orders, when filed, are thought to keep perpetrators away. And, if a woman fails to ... renew a restraining order, the assumption is that the problem has somehow been resolved."
It usually means the opposite, but that is where Dunne's strategy comes into play: recognizing potentially lethal behavior and helping victims take steps to avoid it. Since 2005, none of Dunne's cases have ended in homicide.
Lion king or coalition
---