Family of American held in North Korea asks US to step up efforts to free him
(Read article summary)
Analysts say that North Korea may be holding out for a high-profile visitor from the US before allowing Kenneth Bae's release.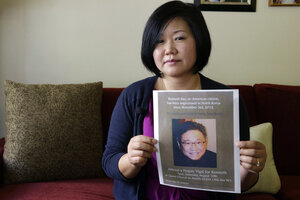 Ted S. Warren/AP
The family of Kenneth Bae, the American who was sentenced to 15 years of hard labor in North Korea in May, is appealing to the United States to step up efforts to bring him home.
Mr. Bae's mother, sister, and brother received letters and a video from him and were informed that he had been transferred from a labor camp to a hospital and that his health was deteriorating after nine months of incarceration.
"I don't see any action. I want to ask them, send an envoy or do something. As a mother, I am really getting angry, really getting angry. What do they do?" Bae's mother, Myung-Hee, told CBS News.
North Korea has previously used detained Americans as bargaining chips with the United States, which wants Pyongyang to abandon its nuclear program. Analysts say that North Korea may be holding out for a high-profile visitor from the US to discuss six-party talks before allowing Bae's release. Such a visit, analysts also say, could help bolster leader Kim Jong-un's image at home.
Although there have been some signs of warming, tensions are still high on the Korean Peninsula after a spring that saw Pyongyang unleash a torrent of bombastic threats in response to tightened UN sanctions over a nuclear test by the North in February.
The US has called for the release of Bae, on humanitarian grounds, but to no apparent effect. Analysts say North Korea may want to use Bae to get a top-level visit from the US. At least five other Americans have been detained in North Korea since 2009. Each was permitted to leave without serving out his or her prison time after visits by prominent Americans. Former President Bill Clinton visited Pyongyang in 2009 just before the release of two US journalists. And former President Jimmy Carter made a trip in 2010 ahead of the release of Aijalon Mahli Gomes.
---