Good Reads: From Putin's economic woes, to billionaire trusts, to gender equality
(Read article summary)
This week's round-up of Good Reads includes President Putin's energy challenges, the man at the center of the NSA eavesdropping controversy, a narrative of a Taliban sneak attack, 'Jackie O. trusts' for wealthy estates, and a gender experiment at Harvard Business School.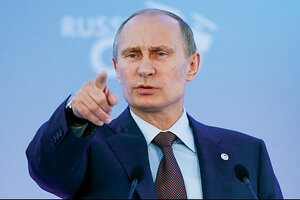 Alexander Zemlianichenko/AP
Russian President Vladimir Putin recently appeared to have the upper hand in his dealings with the Obama administration, advancing a diplomatic plan to prevent a threatened US attack on Syria and providing refuge to National Security Agency contractor Edward Snowden.
But Brian Bremner in Bloomberg Businessweek argues that "beneath Putin's swagger lies weaknesses at the core of the economy that threaten Russia's future – and with it, his power base." And, Mr. Bremner adds, "for that he can blame a familiar nemesis: the U.S."
The threat to Mr. Putin comes from stiffer US competition for Russia's key energy sector, which provides half of the revenue for Putin's government. The prices Russia can get selling oil and gas have weakened as US energy production has soared. Key factors in the stronger US performance: growing use of horizontal drilling and hydraulic fracturing as well as projects slated to add 2 trillion cubic feet of natural gas to the nation's annual production. The challenge for Putin,
Bremner writes, is to revive the energy sector while trying to reduce Russia's dependence on hydrocarbon exports.
At the heart of NSA eavesdropping
Gen. Keith Alexander, the man at the center of the National Security Agency eavesdropping controversy, is profiled by Shane Harris in Foreign Policy. As NSA director, Alexander runs the nation's largest intelligence organization, one that has been in the news for tracking Americans' telephone calls and online activities. He also runs the US Cyber Command, which defends military computer networks and is charged with responding to hostile acts by potential enemies in cyberspace.
---