Haiti earthquake diary: Eyewitness to a Miami-Dade team rescue
(Read article summary)
Five days after the Haiti quake, a Miami-Dade County rescue team digs into a collapsed home, attempting to pull three children out.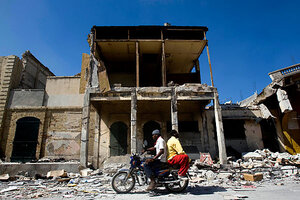 Marco Dormino/MINUSTAH/Reuters
Sunday, Jan. 17
It's about 4 p.m. as I head back toward the hotel. I decide to stop by the site of the former Citibank, just to see if anyone there now knows what happened to the woman who was directing her own rescue the night after the quake. I'm hoping for good news.
The site looks pretty much like it did on Wednesday, only there are international rescue workers here now. A young woman approaches me.
There is someone trapped in a house nearby, she says. She's young, earnest, and pleads with me to bring help. She's calm, level-headed, and I believe her. I approach the rescue squad, which is from Mexico, and one of the men says he will come with me to check it out.
We drive down Delmas 30, turn left on rue Charlemagne, and go halfway down the block to where a crowd of people has gathered. We run down the alley to a house in the back, climb up the rubble onto the roof of another building, and now we are directly in front of the collapsed home.
There are two Brazilian television crews here, and a bunch of curious Haitians. The Brazilians say they captured the sound of a girl's voice on their microphone. The Mexican rescue worker asks everyone to be quiet.
One of the Haitians taps on a wall of the house. Someone inside taps back.
I'm breathless. It's Sunday night, five days after the quake, and there's someone alive inside and I'm about, I hope, to witness this survivor's rescue. My legs are weak.
The Mexican man starts to remove large chunks of rubble from the hole that seems to have the most immediate access. Meanwhile, I send the girl who found me back to the Citibank site with my driver to see if she can get more Mexican rescuers to help.
---