Coup and counter-coup: Mali's military junta retains control of capital
(Read article summary)
Mali's military junta have kept control of the capital, Bamako, after loyalists of the former president launch a counter-coup. But the junta has lost much of the country to Tuareg rebels.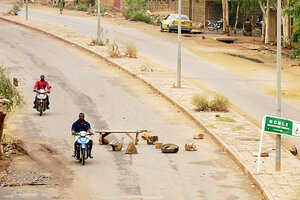 Adama Diarra/Reuters
Fighting in Mali's capital of Bamako broke out last night and deep into the early hours of Tuesday. Military commanders who led a March 22 coup to oust President Amadou Toumani Toure say that they have managed to keep control of all strategic points in the capital, including the airport, a major military base, and the state-owned television station, but heavy gunfire could be heard until dawn.
Coup leaders were forced under heavy diplomatic pressure to step down in favor of a civilian government, led by former Parliament speaker Dioncounda Traoré. But coup leader Capt. Amadou Haya Sanogo remains influential, and his troops have been carrying out arrests.
The most recent fighting seems to have sparked off when Captain Sanogo's men attempted to arrest the leader of the "Red Berets," the presidential guards who are thought to remain loyal to the former president.
"Elements from abroad, supported by some obscure forces within the country, carried out these attacks. Some of them have been arrested," a junta officer said in a television message, quoted by Reuters.
Even before the coup, Mali had been a country of major concern for Western diplomats and for defense analysts. With much of its territory straddling the Saharan desert and the more temperate Sahel region, Mali has long had difficulty maintaining effective control over its own lands and the nomadic people who live in its arid north. Such a vast uncontrolled territory has been seen by Europe, in particular, as a threat, since drug dealers, arms traffickers, and Islamists have increasingly used northern Mali as a safe haven, both for business and for revolution.
---